From TastingTable.com…
Taco Tuesday, meet Mexican pizza Monday. Of course, Mexican pizza day can be any day of the week, really, and that includes even your busiest days.
Recipe developer Kate Shungu's recipe for Mexican Pizza is not only fresh, filling, and delicious, but it's a veritable lesson in efficiency and simplicity. That's because the whole thing comes together with a minimum of time and effort. In addition, and as an extra added bonus, Shungu's Mexican pizza goes from oven to plate to mouths without the need for fussing with the typical taco fixings, because in this case, the sour cream and pico de gallo are plated with the dish to begin with. In other words, when you're done assembling this dish, it is ready to be eaten.
Not only does this make Mexican pizza a lot easier to clean up from, but it also has the effect of turning "tacos into something special," as Shungu puts it. Of course, if anyone in the family (here's looking at you, kids), feels deprived of the part of taco night where they get to play with their food, then you can certainly involve them in "topping the tortillas and creating the stacks," Shungu suggests. Sounds like perfect compromise, no?
Gather your ingredients for Mexican pizza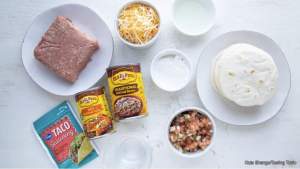 Shungu's recipe for Mexican pizza calls for a pound of ground beef, but you can, of course, substitute any other ground meat, poultry, or meatless meat, because the Mexican seasonings are the real highlight here. Those seasonings will come primarily from a packet of taco seasoning mix, which you can purchase in the spice aisle of your supermarket, if you don't feel like making your own. When you fry up the meat, it will be with the taco seasoning and a half-cup of water.