From TomsGuide.com…
Knowing how to paint a ceiling might seem like a straightforward task, but the truth is many of us don't know the ins and outs that can save time and produce better results. With the right tools, method and order, you can prevent a mess and make the task a whole lot easier on yourself.
You need to complete the look if you're learning how to paint a room in its entirety. A fresh coat of paint on the ceiling can make a huge difference to the end result — brightening up the space and potentially making the room look bigger, so you mustn't ignore it.
Not sure where to start? We've pulled together this comprehensive guide to take you through what to do step-by-step. Here's how to paint a ceiling.
How to paint a ceiling
Before you start, make sure you won't need access to the room you intend to paint for at least two weeks, if possible. As well as that fresh paint smell, some primers and paints also release VOCs once first applied, which can be harmful to breathe, so it's essential that you wait. (One of the best air purifiers will also help remove these compounds.) If you intend to paint a whole room, you should also start with the ceiling before you work your way down to the walls.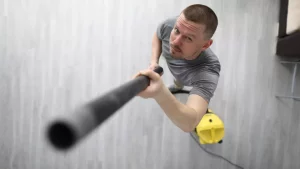 1. Prepare the room — First thing's first: Clear all removable furniture and objects from the room. The emptier it is, the easier it will be to paint. Remove any hanging fixtures and smoke detectors — be sure to switch the power off first — and clear any dust and cobwebs from the ceiling using a microfiber cloth or vacuum.  co
If you spot any cracks in your ceiling, repair them prior to painting using a sealant such as High Strength Fiber- Large Hole Repair Kit  ($9.98, Lowes).