From 100PercentFedUp.com…
It's time to start dusting off your VCR and pulling out those old VHS tapes, because June 7 is National VCR Day.
While it might seem like a lifetime ago to some of us, VCRs and VHS tapes are still in partial circulation today and, for select films, could sell for quite a bit of money. For those in possession of limited-edition or unopened VHS tape collections, you could be holding onto a small fortune.
In December 2021, a sealed, mint-condition "Star Wars" VHS tape from 1977 was auctioned off for $57,600.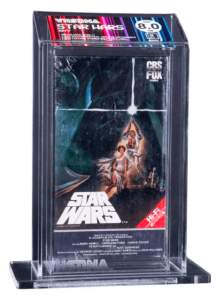 An original Star Wars VHS can be sold for around $3,500 if it's still in a sealed package.
Old Disney classics like Bambi, Snow White and The Seven Dwarfs, Sleeping Beauty, Aladdin, The Fox and the Hound, and Dumbo could go for an estimated price of $50-$1,000, depending on the film and the condition it's in. But most fall within the range of $50-$300.