(Fox News) Enes Kanter Freedom ripped LeBron James over his Brittney Griner remarks in a trailer for the latest episode of his HBO show "The Shop."
James was heard in the trailer questioning whether the U.S. has the detained WNBA superstar's back and floated the possibility that if he was in her situation he would be wondering whether he even wants to go back to the States.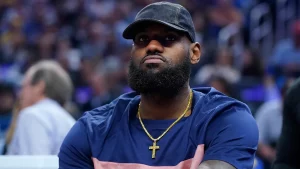 James tried to clarify by saying his remarks were not meant to be a knock on "our beautiful country." Kanter Freedom was not buying it.
"You call it a step back, we call this a walk back," he tweeted
"You are free to leave buddy or you can even volunteer for an exchange for her.
"Some people literally have NO idea what is it like to live in a dictatorship.
You call it a step back, we call this a walk back.

You are free to leave buddy or you can even volunteer for an exchange for her.

Some people literally have NO idea what is it like to live in a dictatorship.

Keep taking your freedom for granted. https://t.co/RG28O6co1E pic.twitter.com/QqpPuLrB72

— Enes FREEDOM (@EnesFreedom) July 13, 2022
"Keep taking your freedom for granted."