(Yahoo) The U.S. Department of Justice and eight states filed an antitrust lawsuit against Google (GOOG, GOOGL) on Tuesday, seeking the breakup of the company's online ad business.
This latest action comes more than two years after the agency and a group of state attorneys general joined in another suit alleging Google's search and search advertising businesses violate U.S. antitrust laws.
The Justice Department's alleges that Google's suite of online advertising tools prevents competitors from entering the online advertising market and blocks publishers from monetizing their own content.
The department further claims that Google is illegally using, or trying to use, its monopoly power, and should be required to divest a host of entities that allow it to carry out the allegedly offending behavior.
Google CEO Sundar Pichai speaks during the Google I/O 2019 keynote session at Shoreline Amphitheatre in Mountain View, California on May 7, 2019. (Photo by Josh Edelson / AFP) (Photo by JOSH EDELSON/AFP via Getty Images)
"Google's anticompetitive behavior has raised barriers to entry to artificially high levels, forced key competitors to abandon the market for ad tech tools, dissuaded potential competitors from joining the market, and left Google's few remaining competitors marginalized and unfairly disadvantaged," the complaint states.
"Google has thwarted meaningful competition and deterred innovation in the digital advertising industry, taken supra-competitive profits for itself, and prevented the free market from functioning fairly to support the interests of the advertisers and publishers who make today's powerful internet possible."
The DOJ is specifically calling for Google to divest at least its Google Ad Manager suite, including both Google's publisher ad server, DFP, and Google's ad exchange, AdX.
Shares of Google parent Alphabet (GOOG, GOOGL) fell as much as 1.6% following the news.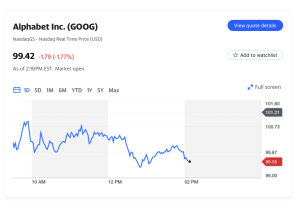 Pennsylvania State University law professor John Lopatka said the stakes for Google increase with the Justice Department's new lawsuit.
"The multiple actions expand the scope of the litigation for Google, and the greater scope somewhat increases its litigation burden," Lopatka told Yahoo Finance. "Reaching negotiated settlements becomes harder as the number of plaintiff groups increases."
Lopatka adds that a DOJ victory, as opposed to a victory by the states, would dramatically benefit private plaintiffs by establishing Google's liability for anticompetitive conduct that injured them.
A victory by the states would indeed bolster the cases of private plaintiffs, but not nearly as much as would a DOJ victory, as private plaintiffs would need to show only damages to impose liability for Google's anticompetitive conduct.
Yahoo Finance has reached out to Google for comment and will update this story when it receives a response.
Prior to the DOJ's filing, Alphabet reportedly sought to quell the DOJ's antitrust concerns by offering to split up its ad auction and ad placement businesses. That offer, according to The Wall Street Journal, was to maintain the would-be separate entities under the company's larger, parent company, Alphabet.
Google has for years faced scrutiny from domestic and overseas lawmakers and regulators concerning its dominance across multiple online and mobile markets.
In the U.S, the firm has faced investigations by the DOJ, the U.S. Federal Trade Commission, and state attorneys general over suspicions that the company's search and digital advertising businesses operate as illegal monopolies.
In 2021, dozens of attorneys general sued the company, alleging that it was operating illegal monopolies in the market for Android app distribution by imposing technical barriers that prevent third parties from distributing apps outside the Play Store.
Over a decade ago, the company was fined roughly $10 billion (8.6 billion euros) by the European Commission, the European Union's antitrust watchdog. Those fines resulted from three separate antitrust violations alleged by the Commission.
In 2017, the company was hit by the Commission for allegedly abusing its market dominance in search, and again in 2018 for allegedly abusing its market power in the mobile space by preloading its own apps on new Android phones. And in 2019, the company was again fined for limiting its rivals from working with companies that already had deals with Google's AdSense platform.
Advertising
Google's digital advertising business has become an antitrust target due to its unrivaled size and volume. The company holds a commanding lead in the space and controls some of the most important links in the online advertising chain — centrally its DoubleClick platform, a premier tool for online publishers, helping them create, manage, and track online marketing campaigns.
Acquired in 2007, DoubleClick was cited by Sen. Elizabeth Warren (D-MA) as one of the major acquisitions Google should be forced to unwind to improve competition in the advertising space.
Google, and competitor Facebook (META), have also been lambasted for the impact their outsized share of the online advertising market has on the media industry. With Google competing directly with online publishers for digital ad space, publishers have been forced to significantly cut back newsroom staff, sell themselves off, or close down entirely.
In Feb. 2021, Australia passed legislation that forces Google and Facebook to negotiate payment deals with media companies for using their content. Previous attempts to force Google to pay for media it benefits from ended in failure. In 2014, Spain passed legislation that would force internet sites to pay for content it used from publishers including headline and news snippets.
But rather than comply, Google simply shut down its Spanish Google News site. Users could still find articles in Google's search results, but couldn't use the Google News platform to get news from Spain-based publications anywhere in the world.