From FoxNews.com…
Former President Trump joined his own TRUTH Social on Thursday, posting on a social media platform for the first time in more than a year with a throwback to his now-infamous 2017 typo "covfefe."
"I'M BACK! #COVFEFE," Trump posted on TRUTH Social Thursday afternoon with a photo of himself in front of his Mar-a-Lago property in Palm Beach, Florida.
The hashtag "covfefe" was referring to one of his deleted tweets in 2017 in which he decried the media's coverage of his administration.
"Despite the constant negative press covfefe," Trump wrote in a tweet on May 30, 2017 that received more than 100,000 retweets and 100,000 likes before being deleted.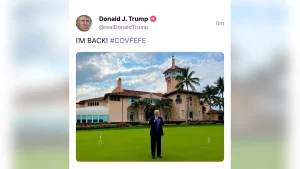 Trump, on Monday, told Fox News he would not return to Twitter, even as Elon Musk purchased the social media company and reinstates his account. Trump said he would, instead, use his own TRUTH Social as the sole platform for his voice.
Twitter, on Monday afternoon, announced it agreed to be acquired by Musk for $44 billion.