From CNBC.com…
After rebounding from the short-lived pandemic recession, the U.S. economy has faced multiple threats in 2022, sparking investor fears of a prolonged downturn.
Annual inflation reached a 40-year high in March, prompting the Federal Reserve to raise its benchmark rate by half a percentage point, the biggest hike in two decades. That's on top of months of stock market volatility.
Meanwhile, the economy unexpectedly shrank in the first quarter of 2022, with the U.S. gross domestic product declining at 1.4% pace.
Eight in 10 small business owners expect a recession this year, according to the latest CNBC|SurveyMonkey Small Business Survey.
While some experts say a recession is looming, others expect a stronger second quarter of 2022, pointing to solid personal consumption despite surging prices.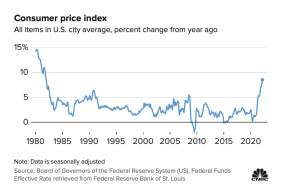 "We all understand that markets go through cycles and recession is part of the cycle that we may be facing," said certified financial planner Elliot Herman, partner at PRW Wealth Management in Quincy, Massachusetts.
However, since no one can predict if and when a downturn will occur, he pushes for clients to be proactive with asset allocations.