(RAIR Foundation USA)  Argentinean television has revealed new evidence of voting machine fraud in around 280,000 voting machines that were pre-2020 models used in the October 30, 2022, Brazilian Presidental elections. Argentine political consultant Fernando Cerimedo asserted on the program that statistical analysis conclusively shows the result was fraudulent.
This is the latest claim of a long line of professionals who have evidence that Communist and former prisoner Luiz Inácio Lula da Silva (Lula) did not beat Brazillian President Jair Bolsonaro in the presidential elections. Instead, it appears the former inmate was installed by his appointed and equally corrupt Supreme Court.

As reported previously at RAIR Foundation USA, Lula claims that he beat Bolsonaro in what was one of the tightest presidential races. However, following an audit of the election results, the military concluded that there was a "possible security risk" in the country's voting system. Furthermore, they disclosed several flaws in the electronic voting system. According to a statement by the Northeastern Military Command, which is one of eight Military Commands of the Brazilian Army:

At least 100 electronic ballot boxes did not contain a single vote for Bolsonaro. 5 million votes were discarded. Several electronic voting machines' Audits showed they changed some voting percentages. The results claim that Lula allegedly won 50.9% of the vote and Bolsonaro 49.1%.
Slay News reported that Minister of Defense Paulo Sergio Nogueira de Oliveira sent his report on possible election fraud to the radical leftist Supreme Electoral Court (TSE); however, he did not expect the corrupted court to investigate the situation: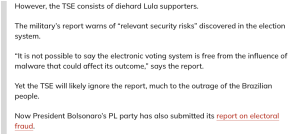 Following the proof of voter fraud, Bolsonaro and his conservative Partido Liberal (PL) political party formally requested an annulment of the October 30th presidential election result.
However,  the president of The Superior Electoral Court of Brazil (TSE), Alexandre de Moraes, declared that the PL's complaint was "an offense against democratic norms" and that it sought to "encourage criminal and anti-democratic movements."
The compromised court added that the lawsuit had been filed "in bad faith" and fined the party 22.9 million reais ($4.3 million).
Corrupted Supreme Court paves the way for Election Fraud.
As previously reported, the left's goal was to either oust Bolsonaro from power during his presidency or force him to lose the presidential election. The communists could not oust him from power because of his extraordinary popularity. But they just about guaranteed his defeat in the election as a fully electronic ballot box was used to make sure Brazil's former president, Lula, won. Lula is a convict, turned into a presidential candidate by the Supreme Court.