From FoxNews.com…
The paper known for its slogan "Democracy Dies in Darkness" should perhaps be more concerned about its own well-being after the disastrous week it had.
The Washington Post, the once-revered news organization that famously exposed the Watergate scandal leading to a president's resignation, is still highly respected in the Beltway but has lost its way in recent years among most Americans. From declaring the coronavirus lab-leak theory was a "debunked" "conspiracy" to quickly rejecting the Hunter Biden laptop scandal in the final weeks of the 2020 presidential election, the Post of today is simply not the same as the Post of the Nixon era.
But the events that occurred over the past week may be some of the worst that have plagued the Washington Post in its 144-year history.
On Thursday, the Post was forced to address the controversial 2018 op-ed penned by actress Amber Heard, which became the center of the explosive defamation lawsuitlaunched against her by ex-husband Johnny Depp.
The op-ed, published just days before the release of her new film "Aquaman," Heard alleged she was the victim of domestic abuse, heavily implying Depp was her abuser without actually naming him. But during the stunning six-week trial, it was revealed that the ACLU had ghostwritten her op-ed. In the end, a jury found that Heard's piece against Depp was in fact defamatory.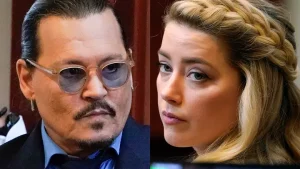 The following day, the Post issued an editor's note acknowledging the verdict.
"In 2019, Johnny Depp sued Amber Heard for defamation arising out of this 2018 op-ed. On June 1, 2022, following a trial in Fairfax County, Va. Circuit Court, a jury found Heard liable on three counts for the following statements, which Depp claimed were false and defamatory: (1) 'I spoke up against sexual violence — and faced our culture's wrath. That has to change.' (2) 'Then two years ago, I became a public figure representing domestic abuse, and I felt the full force of our culture's wrath for women who speak out.' (3) 'I had the rare vantage point of seeing, in real time, how institutions protect men accused of abuse,'" the note read, adding that the jury also found Depp had defamed Heard on one count through comments made by his lawyer Adam Waldman.
While the verdict was largely seen as an indictment of Heard's credibility, some critics argued the Post should also be held accountable for publishing her defamatory op-ed in the first place.
"The Washington Post- you can just do anything, you're just saying anything, and they have no responsibility, no skin in the game, they cause all the damage to Johnny Depp? But no- 'oh, she wants to say that he does this, that, the other thing we'll just publish it. We'll do no research on our own, no fact checking.' It's crazy," Barstool Sports founder Dave Portnoy told his Twitter followers last week. "And then when it's total bulls— and a guy- his life has been destroyed, they're like 'Oops, we didn't know. Not our fault. Whoever we talked to wasn't totally truthful. We didn't do any digging. We just trusted them at their word. And we printed it ruined it, Nope not our fault.' … But if you ask me, the Washington Post should be held responsible as well. Like you gave her the platform, don't you- like, don't you have some responsibility to make sure what you publish isn't s—?"