(Chicago Sun-Times) A mass shooting at a Highland Park Fourth of July parade sparked hours of fear across Chicago's North Shore as authorities conducted a massive manhunt for the young man who allegedly gunned down dozens of people from a rooftop perch.
Police identified the shooting suspect as Robert "Bobby" Crimo III, a 22-year-old who remained on the loose for more than eight hours after the attack in the affluent suburb's downtown area.
Crimo was finally tracked down in his vehicle by North Chicago police Monday evening, according to Highland Park police. After a brief chase, he was arrested in Lake Forest.
It marked the conclusion of a frantic day of numerous law enforcement agencies canvassing the north suburban area on the hunt for a shooter who was considered armed and dangerous.
Shots were fired at 10:14 a.m. at the intersection of Second Street and Central Avenue, where the shooter apparently used an "unsecured" ladder in the alley of a business to climb to the roof and start shooting, according to Chris Covelli of the Lake County Sheriff's Office.
Shooting victims were taken to multiple hospitals across the Chicago area. Most of the victims' family members had been notified by mid-afternoon, hospital officials said.
Highland Park police designated their headquarters — 1677 Old Deerfield Road — as the reunification site for residents trying to track down relatives or friends who scattered from the chaotic shooting scene.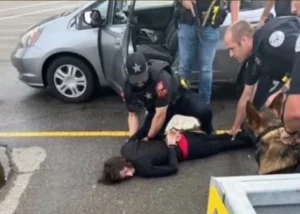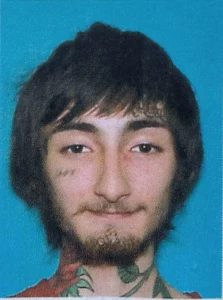 Videos posted to social media showed officers going door to door in parts of the suburb as the manhunt intensified throughout the day.
For several hours, residents across town were urged to take shelter indoors. By mid-afternoon, investigators limited that focus to the downtown area bounded by Green Bay Road, Laurel Avenue, St. Johns Avenue and Elm Place, according to Highland Park Police Commander Chris O'Neill.
Crimo ended up being taken into custody about 5 miles away from the shooting scene, about 6:30 p.m. at the intersection of Route 41 and Westleigh Road in Lake Forest.
Meanwhile, FBI agents and other law enforcement officials were also swarming a home in nearby Highwood where Crimo might have relatives.
A neighbor said they had regularly seen Crimo outside that home wearing a helmet and a mask, riding a small motorbike. The neighbor, who asked not to be named, said Crimo's father — who ran unsuccessfully for Highland Park mayor in 2019 — and uncle also spent time at the home. The father, Bob Crimo Jr., ran a restaurant called Bob's Pantry & Deli in Highland Park from 2013 to 2018, records show.