(Fox News) The U.S. Supreme Court handed down its decision Friday morning overturning the 1973 abortion decision Roe v. Wade, which now allows states to make their own abortion laws, and pro-life and pro-choice activists have taken to the streets in cities across the U.S. to allow their voices to be heard.
Pro-life activists showed up in U.S. cities in celebration of restrictive abortion laws that are now, or will be soon, enacted in a number of GOP-led states following the court's decision while pro-choice demonstrators protested what they see as an attack on reproductive rights.
Washington, D.C.
Outside the Supreme Court in the nation's capital, thousands of activists, both in favor of and in opposition of the ruling, arrived with signs in support of their cause.
Pro-choice protestors began participating in chants voicing frustrations over Friday's ruling. At one point, New York Democratic Rep. Alexandria Ocasio-Cortez joined a crowd calling the court, "Illegitimate!"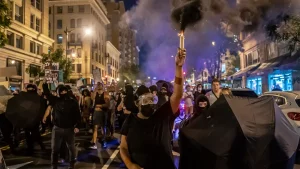 Abortion laws in D.C. are among the least restrictive in the country, allowing the procedure in all stages of pregnancy, including late-stage and third-trimester abortions.
New York City, New York
Dozens of pro-choice protestors were arrested in New York City after an estimated 17,000 people demonstrated in the Big Apple.
Protestors were heard shouting "My body, my choice" while holding signs that read "Keep your laws off my body" and "No uterus, no opinion."
Abortion access in New York is protected under the 2019 Reproductive Health Act. Democratic Gov. Kathy Hochul recently expanded protections for abortion patients and providers in preparation of the court's ruling.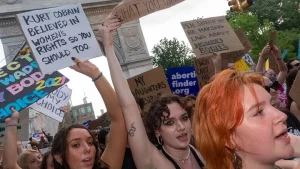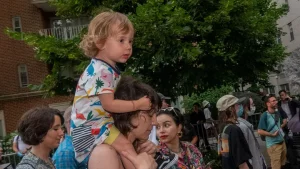 Los Angeles, California
A crowd of demonstrators had formed in downtown Los Angeles to protest the ruling, with some violent altercations reported between protestors and police.
Protestors were said to have thrown rocks and set off fireworks near officers while SWAT teams launched non-lethal bullets at demonstrators. Police declared an unlawful assembly. Arrests were made in connection to the protests, but the number of apprehensions has not been released.
Large protests also formed in Hollywood and West Hollywood, which were largely peaceful.