(TownHall) He was known to law enforcement.
How many times are we going to hear that regarding a mass shooting? He had mental health problems going back to middle school. He declined additional resources to seek help as his parents chose to homeschool him. He had a reported social media presence—and it was highly disturbing. Robert "Bobby" E. Crimo III was arrested on July 4 after he allegedly opened fire on an Independence Day parade in Highland Park, Illinois, an affluent Chicago suburb. Crimo killed six people and wounded 38 others (via NBC News):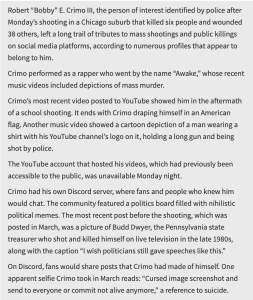 Crimo's father ran for mayor against incumbent Nancy Rotering in 2019. He described his son as having emotional issues as well. Where 'see something, say something' dies here is the nature of the online postings. They're for people who have similar twisted concepts about life and morality. They're not going to the police. If anything, they hate the police. Even if someone reported seeing one of his posts, I doubt the police could do anything. Countless posts that could be considered threatening are posted every day. There's simply not enough resources or manpower to sift through all of them. Illinois does have a red flag law, so expect a debate on that to be rehashed especially since Congress just passed a law incentivizing more states to adopt these measures.