From FoxNews.com…
By targeting known violent criminals and seeking stiff penalties for the worst offenders, a Republican Florida prosecutor has reduced violent crime in her community as big cities with Democratic district attorneys around the country, including New York, Los Angeles and Chicago, are witnessing crime spikes.
"In 2021, Jacksonville's murders were down 30% and overall shootings down 17% from the year prior, according to [Jacksonville Sheriff's Office] data for non-domestic shooting incidents," David Chapman, a spokesperson for the Fourth Circuit State Attorney's Office, told Fox News Digital. "Given last year's downturn, our numbers to date aren't far off the mark and thankfully have not spiked like other cities."
The Fourth Circuit covers Clay, Nassau and Duval counties and the city of Jacksonville and is led by State Attorney Melissa Nelson, who made waves for finding new ways to prosecute known criminals, such as pursuing firearms charges in connection with guns flaunted in music videos. She has sought stiffer sentences for people convicted of gun crimes.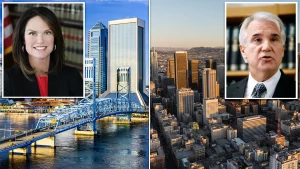 This year, Nelson's jurisdiction is seeing another drop in homicides, although shootings remained even with last year's at the start of the month, statistics show.
"After experiencing a substantial downturn in violent gun crime in 2021, we continue to work together to combat violent crime in hopes that this trend continues," Nelson told Fox News Digital. "Currently, we remain on par with last year's numbers. Improving public safety and fighting violent crime remains a top priority for our office and law enforcement partners."
In February, Nelson secured a manslaughter conviction against a drug dealer implicated in a Jacksonville woman's overdose death. She's supported a streamlined process for prosecutors to obtain warrants without supervisory approval, a stark contrast to the micromanaged oversight in Los Angeles. In a memo to her staff, she argued in favor of "identifying and incapacitating" dangerous repeat offenders.
Nelson also advocated for a Crime Gun Intelligence Center to "connect the dots" in an attempt to catch shooters before they can commit more crimes.