From ReclaimTheNet.org…
LinkedIn suspended the account of an Air Force veteran for saying student debt should not be forgiven. President Joe Biden recently extended the student loan pause to August 31.
Gretchen Smith, an Air Force veteran, recently took to social media to share a story about how grew up in poverty and managed to go to college without getting student loans.
"I am not responsible for your student debt," she wrote. "I grew up in poverty in NC. Ate from a garden, name was on community Angel tree for Christmas, bought clothes from yard sales & if I was lucky, on rare occasion Sky City."
"I joined the Air Force then went to college. I made it happen."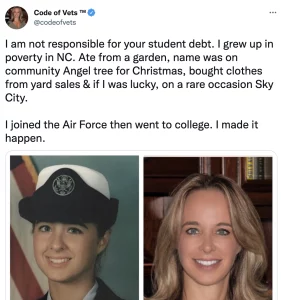 LinkedIn removed the post and suspended her account for violating its policy on hate speech.