From DailyWire.com….
On Monday, as the jury began their deliberations following the closing statements during the trial of Derek Chauvin regarding the death of George Floyd, household supplies company "Seventh Generation" posted on their Instagram account, describing George Floyd's death as "murder."
"We continue to face deep racial inequity in our society as Derek Chauvin's trial comes to a close for the murder of George Floyd," the post graphic read. "And as more Black and Brown lives continue to be lost at the hands of the police, including Daunte Wright, Adam Toledo and the countless unnamed."
"Stopping the continued killing of Black and Brown people at the hands of the police demands we divest from police and invest in systems that build community health and well-being, especially in BIPOC communities who bear the biggest burden of systemic racism in policing," the post continues.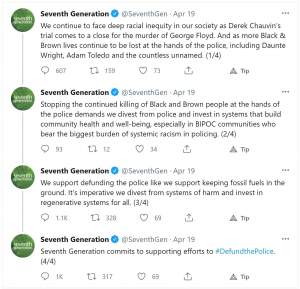 "We support defunding the police like we support keeping fossil fuels in the ground," the post added. "It's imperative we divest from systems of harm and invest in regenerative systems for all."