From NYpost.com…
As many as three Hillary Clinton donors — including one who also supported US Rep. Alexandria Ocasio-Cortez — are among the prospective jurors for former Clinton campaign lawyer Michael Sussmann's trial.
Special counsel John Durham's team objected to putting one Clinton contributor on the panel after the man said he would "strive for impartiality as best I can."
But the prosecution was overruled by Washington, DC, federal Judge Christopher Cooper, who said the man — who works in public policy for Amazon and appeared to be in his 40s —  "expressed a high degree of confidence" that he could be impartial.
Cooper, nominated by former President Barack Obama, also said Durham's prosecutors could use one of its peremptory challenges to strike him from the panel for the trial, the first to result from his three-year probe into the government's investigations of purported ties between former President Donald Trump and Russia.
Judges can only remove people from a jury pool if questioning reveals they're not suited for service, including being biased in favor of one side or the other.
Durham sat behind his team in the courtroom's well, taking notes during the jury selection process.
In 2016, DC voters favored Clinton over Trump, 90.9% to 4.1%, and Democrats in the nation's capital now outnumber Republicans, 76.5% to 5.4%, according to an April 30 tally posted online by the local Board of Elections.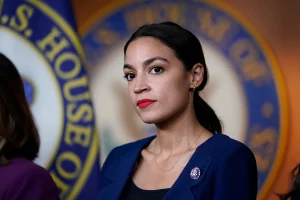 Another Clinton supporter, a former bartender who appeared to be in her 20s, said she'd also donated to progressive firebrand Ocasio-Cortez (D-The Bronx, Queens) but was put on the panel after a Sussmann defense lawyer told her that neither Clinton nor former President Donald Trump were on trial and asked if she could be impartial.
"Yes, knowing that," she said.
Another woman, who appeared to be in her 40s, said she likely donated to Clinton's 2016 campaign but wasn't entirely sure.