From 100PercentFedUp.com…
At a public school in Washington, DC, 4-year-olds are being asked to identify racist members of their families as part of an "Anti-Racism Fight Club" program.
Doyin Richards, the creator of the Anti-Racism Fight Club (ARFC) and a self-proclaimed 'anti-racist facilitator', gave a presentation at Janney Elementary School for students in Pre-K through 3rd grade. As part of this presentation, the children were given a "fistbook" – rather than a "handbook" – covering topics like racism and racial inequality in a very damaging way, such as insisting that white people "hold all of the power in America."
In Richards' "Fistbook for Kids", he teaches that anti-racism "isn't a spectator sport" but requires "being loud, uncomfortable, confrontational and visible to ensure change is made."
"Fistbook" is also a questionable choice for this children's book. The front page says, "It's a Fight Club. We don't do "handbooks." This brings a connotation of violence to very young children that is not appropriate for the age group it's being presented to.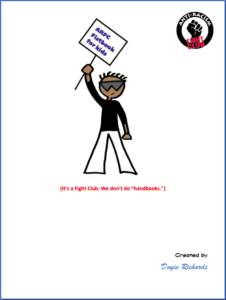 The book also presents some very damaging perspectives on racial relations to elementary school-aged children.
"[I]f a Black person says something mean to a white person, he has no power over him. It's as if white people walk around with an invisible force field because they hold all of the power in America," says the book.