(Not The Bee) Pornography use is probably the number one most prevalent spiritual and health crisis in our technology-driven world of today.
In order to combat porn use, companies like Covenant Eyes, Accountable2You, and other anti-porn-use software have been created to help people break porn addiction.
However, if you have an Android phone, these helpful tools are no longer available to you.
Why?
Because they do what they were designed to do.
Google has removed @CovenantEyes and @Accountable2You from the Android Play Store after a hit piece from Wired, which revealed that these apps nefariously…do what they're designed to do, i.e. detect p*rn usage. https://t.co/BlsrMxQeks

— Woke Preacher Clips (@WokePreacherTV) October 1, 2022
Accountable2You, a Christian anti-porn app, released a statement addressing the Google ban. Here are some excerpts: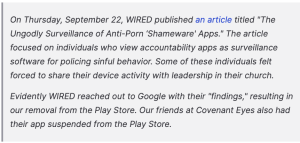 A tech publication wrote a hit piece on a Christian software company and asked Google to remove them.
The program is designed as accountability, meaning that if someone downloads the app and looks at pornography, it lets someone else know. This is a common way to combat sin and is recommended by many faith leaders in the fight against porn.
And Google banned it because Wired claims that it's "spying" even though everyone who downloads the app KNOWS that that is the purpose of the technology.
They are voluntarily allowing the app to detect pornography.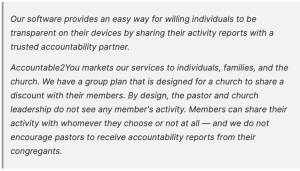 Wired made an issue out of something that was never an issue. If someone at some church is misusing the program, that isn't the fault of Covenant Eyes or Accountable2You. They leave the details up to the individual.
This didn't matter and Google removed the apps after hearing just one side of the story.
Google offered the technical reason for the ban and, as one could guess, it's absolutely rubbish.