From DailyWire.com…
As LGBT employees at Disney get ready to stage a walkout on March 22 over Disney's attempt to remain neutral on Florida's "Parental Rights in Education" bill, conservative staffers have issued an open letter of their own.
Published Monday and provided to The Daily Wire in advance, the authors reveal that they do not feel safe in their jobs and say that Disney has "come to be an increasingly uncomfortable place to work for those of us whose political and religious views are not explicitly progressive." The staffers say they've watched silently as Disney villainizes and condemns political leaders who share their opinions: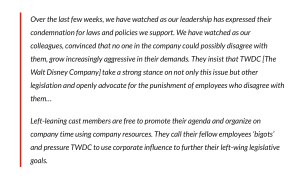 Rather than demanding the company issue statements on proposed laws and use its influence to pressure legislators, the conservative staffers behind the letter — who published anonymously out of fear of retaliation — are instead asking the company to stay out of politics.
Citing "Hamilton" and "The Mandalorian" as unifying content, they argue that Disney is more valuable as a business and a cultural institution when audiences from across the political spectrum feel free to enjoy the entertainment it produces. They are inviting the public to join them in asking the company to stay politically neutral.