World-renowned attorney joins trusted online news sources, medical professionals, independent journalists and media outlets to address collusion among behemoth media conglomerates to silence smaller publishing competitors in violation of antitrust and free speech laws.
(Gateway Pundit) A first-of-its-kind antitrust action was filed Tuesday against the British Broadcasting Corporation (BBC), The Washington Post, Reuters, and Associated Press for damages totaling millions for the plaintiffs subject to trebling and seeks to address the boycott and censorship of health-freedom advocates, activists, journalists and medical professionals who dared to question the narrative relating to the COVID-19 pandemic and vaccine mandates.
The lawsuit reveals that by March 2020, a partnership was created called the Trusted News Initiative (TNI) between Big Tech and legacy media to exclude rival publishers from the dominant internet platforms. The partnership was launched by BBC Director-General Tony Hall, with the agreement that members of the TNI "work together to . . . ensure that disinformation myths are stopped in their tracks." This coordinated effort is, by definition, a classic form of a "group boycott" to damage the ability of smaller publishers to compete or even survive.
Members of the TNI include legacy media outlets the BBC, The Washington Post, Reuters, and Associated Press, along with social media and tech giants—Twitter, Meta (Facebook/Instagram), Microsoft, Google/YouTube, and LinkedIn. TNI members collectively hold 90% of the overall social media market, 90% share of the social networking market, 75% of the video hosting market, and over 90% of the search-engine market.
The complaint points to multiple examples of what plaintiffs state violates antitrust laws.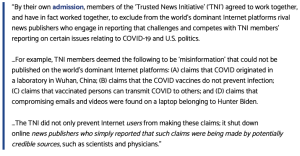 Dr. Ben Tapper, Dr. Joseph Mercola, founder of The Gateway Pundit Jim Hoft, independent journalists Ben Swann and Erin Elizabeth Finn and independent news outlets TrialSite News and Creative Destruction Media, and health-freedom activists Ty and Charlene Bollinger join Robert F. Kennedy, Jr. and Children's Health Defense (CHD) as plaintiffs.
"My uncle, President Kennedy, and my father, the Attorney General, sought to prosecute antitrust laws that are still on the nation's books with vigor," said Kennedy. "As private enforcers of those laws, we are confident that the Federal Court in Texas will vindicate our bedrock freedom to compete with legacy media in the marketplace of ideas."