(Hot Air) I'M SERIOUS AS A HEARTATTACK
It's Science™, people – I have the study right here – from the University of Southern California, no less. You thought David's post about a flag painted in the road was outrageous?
Read and weep the study abstract, racist motorists.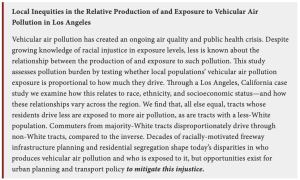 You wanna know what I think? I think a couple of graduate students are angling for a new gig because they heard there'd be an equity opening for Anti-Racist Road Czar.
Laugh now, Pete…
…they're coming for you.
When earnest reporters at the LA Times got ahold of the study, they couldn't wait to dissect the possible racism contained within. Make the scientific argle-bargle accessible to your everyday white drivers (aka "THE BAD GUYS") so they would be educated on their transgressions, feel miserable about themselves, self-flagellate, and change their habits of perpetual vehicular oppression.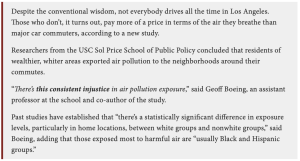 Gosh. That lad certainly has all the SJW codewords down.
In another column, a second LA Times type waxes on about his drives, how he tries not to drive, and how guilty he should feel every time he drives.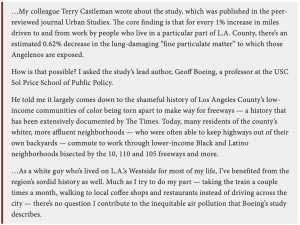 Gosh. This sounds terrible – horrible white people in cars, driving, driving, driving…

…until the BS meter goes off and someone finds [cue: dum dumdum DUM] A PIE CHART.
About those numbers and the guilt trips, dudes…