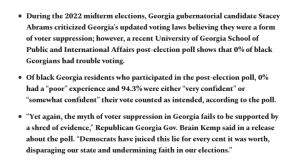 (Daily Caller) Stacey Abrams, who criticized Georgia's updated election law and claimed "voter suppression" occurred during the 2022 midterm elections, has stayed silent after a recent poll showed 0% of black Georgians had trouble voting.
Of black Georgia residents who participated in the post-election poll, 0% had a "poor" experience and 94.3% were either "very confident" or "somewhat confident" their vote counted as intended, according to the University of Georgia School of Public and International Affairs post-election poll. In March 2021, Georgia passed the Election Integrity Act, which required voters to have an ID to receive an absentee ballot and placed a restriction on where ballot boxes were placed, leading President Joe Biden to call the new law "Jim Crow in the 21st Century."
The law worked to curb alleged voter fraud and expanded in-person early voting in most counties, while also extended voting periods to weekends and expanded the hours polls are open.
Abrams did not respond to the Daily Caller News Foundation's requests for comment about the University of Georgia poll.
After the law passed in March, Abrams criticized the law, which was implemented by Kemp, and continued to criticize the law during the midterms. Leading up to the election, Georgia voters broke the state early voting record, with 2,288,889 ballots cast, according to the Georgia secretary of State office.
"It does not mean voter suppression doesn't exist," Abrams said in October during a campaign rally. "But we're stronger, better, and faster than it." Abrams first accused Georgia of participating in voter suppression after Kemp defeated her for the first time during the 2018 gubernatorial election.
In November, Kemp defeated Abrams a second time 53.4% to 45.9%, receiving 2,110,328 votes, according to Politico. Kemp received 298,857 more votes than Abrams.
The post-election poll, conducted with 1,253 respondents from Nov. 13 to Dec. 6, has a margin of error of 2.8%.
Yet again, the myth of voter suppression in Georgia fails to be supported by a shred of evidence.

It is past time for President Biden & his allies to apologize to the people of Georgia & request the DOJ withdraw its ridiculous lawsuit against the state. https://t.co/wVwMWQMpGD

— Brian Kemp (@BrianKempGA) January 24, 2023
The poll further showed that 79.7% of black respondents were either confident or somewhat confident that votes across all of Georgia were properly counted, while 89.6% gave election officials either a good or excellent rating for their work during the election, according to the poll.
Furthermore, 99.4% of black Georgians felt safe while voting, 99.5% said that they did not have a self-reported problem while voting and 84.1% said it was easy to cast a ballot, according to the poll.
"Yet again, the myth of voter suppression in Georgia fails to be supported by a shred of evidence," Republican Georgia Gov. Brain Kemp said in a release about the poll. "Democrats have juiced this lie for every cent it was worth, disparaging our state and undermining faith in our elections. But the facts are clear: Georgia's Election Integrity Act made it easy to vote and hard to cheat. It is past time for President Biden and his allies to apologize to the people of Georgia and request the Department of Justice withdraw their ridiculous lawsuit against the state."