From FoxNews.com…
Former Hawaii Rep. Tulsi Gabbard suggested that former President Barack Obama is behind the effort to establish a Disinformation Governance Board, which she likened to George Orwell's famed "Ministry of Truth."
"Biden is just a front man," Gabbard said on Twitter Sunday. "Obama, April 21: social media censors 'don't go far enough,' so the government needs to step in to do the job. Six days later, Homeland Security rolls out the 'Ministry of Truth' (aka Disinformation Governance Board)."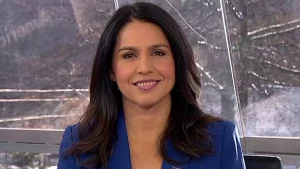 Biden is just a front man. Obama, April 21: social media censors "don't go far enough," so the government needs to step in to do the job. Six days later, Homeland Security rolls out the 'Ministry of Truth' (aka Disinformation Governance Board). pic.twitter.com/CHOD4mbE0B

— Tulsi Gabbard 🌺 (@TulsiGabbard) May 1, 2022
Gabbard, a Democrat, was referencing Obama's speech at Stanford University last week, where he argued tech companies have a hard time moderating content on their own and called for more oversight.
"Now the good news is that almost all the big tech platforms now acknowledge some responsibility for content on their platforms, and they're investing in large team of people to monitor it," Obama said during the speech. "Given the sheer volume of content, this strategy can feel like a game of Whac-A-Mole."
Obama said he believes employees at the companies "are sincere" in trying to moderate violent content and hate speech, but argued more needs to be done to help the companies limit such posts.