From FoxNews.com…
In the wake of Tuesday's horrific mass shooting at a Texas elementary school, Democrats are pushing for a gun control bill that would have done little, if anything, to prevent the tragedy.
H.R. 8, the Bipartisan Background Checks Act of 2021, would expand the National Instant Criminal Background Check System to require a background check for all firearm sales, including private sales between two unlicensed individuals.
The bill passed the House last March with eight Republicans voting in favor and one Democrat, Rep. Jared Golden of Maine, voting against. The bill was read for the first time Tuesday in the Senate, where 10 Republican votes are needed to overcome a filibuster. Sen. Joe Manchin, D-W.Va., has said in the past that H.R. 8 penalizes law-abiding gun owners, and he reiterated his position Tuesday that eliminating the filibuster would lead to "total insanity."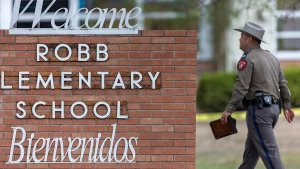 Multiple Democrats tweeted support for the bill after a gunman killed 19 children and two teachers at Robb Elementary School in Uvalde.
"When 90% of the country supports universal background checks, we should have laws to reflect that," Rep. Chrissy Houlahan, D-Pa., tweeted Tuesday. "That bill is called H.R. 8 The House has passed it multiple times. The Senate MUST act and institute universal background checks on all gun purchases. It's a start."