(Fox News) A senior Biden-appointed Pentagon official – Gil Cisneros – was forced to read and explain divisive statements against White people from one of his employees in a grilling hearing at the House Armed Services Committee Thursday.
Cisneros – Under Secretary of Defense for Personnel and Readiness – was responsible for determining the outcome of a probe into former DEI chief Kelisa Wing over divisive tweets about White people, which called them "Karen[s]."
"Mr. Cisneros, are you familiar with the tweet? Can you please read the tweet aloud?" asked Rep. Elise Stefanik, R-N.Y., about one of Wing's controversial posts.
Cisneros read the post verbatim at the hearing, which said, "So exhausted at the White folks in these PD sessions. This lady actually had the caudacity to say Black people can be racist, too. I had to stop the session and give the Karen the business. We are not the majority. We don't have power."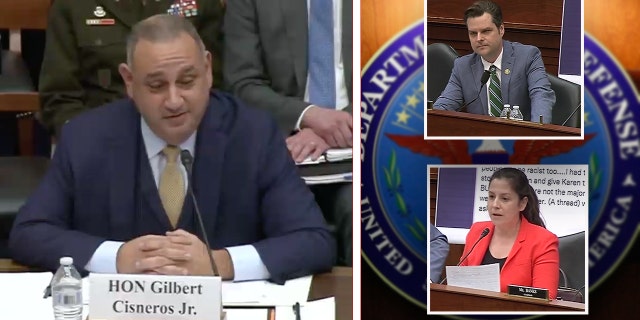 "This is wildly inappropriate and unacceptable. Do you agree with that, Mr. Cisneros?" Stefanik asked.
"I do agree that that is not acceptable. It's not condoned by… the Department of Defense," he said.
However, the Pentagon said it will issue no disciplinary action to its former diversity, equity and inclusion chief, Wing, over her statements about White people.
Matt Gaetz, R-Fla, said, "I would like to go back to the tweets of the racist person that works for you. What does 'Caudacity' mean?"
"I have no idea," Cisneros said.
"You took six months to investigate one tweet. You didn't even figure out what the words meant?" Gaetz asked.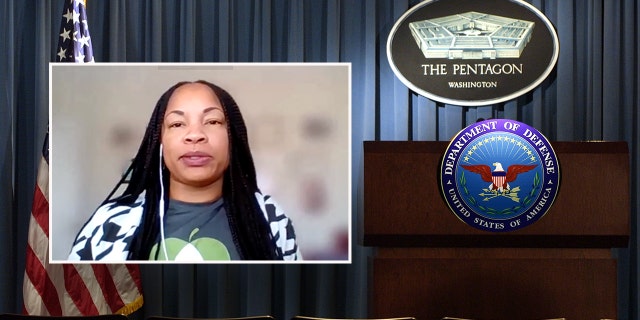 Cisneros claimed he was not involved in investigating. However, the Pentagon repeatedly cited him as responsible for determining the outcome of the probe.
The GOP congressman said, "Someone at the Pentagon is throwing your name out there as being responsible for this? And now it looks foolish that you're suggesting you don't know what that means."
"You said in a Fox News Digital article that you were going to take 30 days to investigate, and it took you six months in a six-month investigation. You guys didn't learn what the word 'Caudacity' meant?" Gaetz said. "I think, you know. I think every person that's going to watch this exchange knows, you know, it's she's trying to lash audaciousness with someone being Caucasian, isn't she?"
"I have no idea," Cisneros said. "We do not support racist tweets. We do not support racism."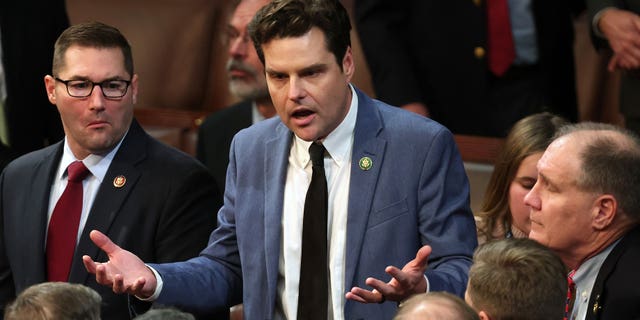 Gaetz said, "Well, did you fire this lady?"
"I did not hire her," Cisneros said.
Gaetz pressed, "Let's go to the next claim. 'The audacity to say that Black people can be racist too.' Mr. Cisneros, can Black people be racist, too?"
"I'm not going to answer that, congressman," Cisneros said.
On another occasion, Wing has previously said, "If another Karen tells me about her feelings… I might lose it…"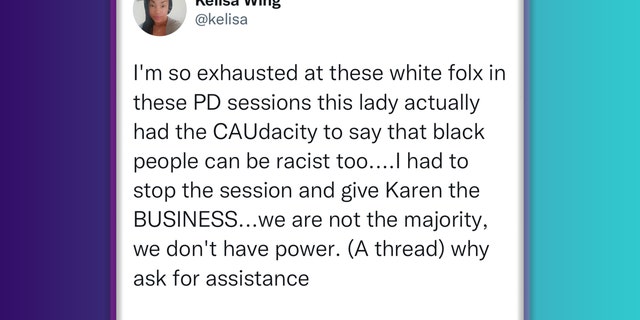 Cisneros said the Pentagon "determined the employee ws speaking in a personal capacity… As a result, the Director, DoDEA took no disciplinary action. Separately, as part of headquarters restructuring, the employee was reassigned to another position that does not include diversity, equity and inclusion-specific responsibilities."
It remained unclear what Wing's new responsibilities were.
Former CIA director, Mike Pompeo, released a statement to Fox News Digital, said, "The Pentagon's decision makes obvious that the Biden administration agrees with Kelisa Wing and her statements on race."
"This lack of accountability for her racially charged remarks are another sign that President Biden wants to make the Pentagon more about wokeness, green energy and racism than national defense and readiness. The men and women who serve deserve better."