WNBA and Phoenix Mercury star Brittney Griner is detained in a Russian jail more than three weeks after being stopped at an airport for possession of cannabis oil found in her luggage.
CNN tweeted a Russian state television broadcast of a photo of the basketball star.
Russian state TV has released a photo of WNBA star Brittney Griner, who was arrested on drug charges in the country after Russian officials say cannabis oil was found in her luggage. CNN's @RosaFlores has the story. pic.twitter.com/SzB9MSSQfY

— CNN (@CNN) March 8, 2022
The United States State Department is currently trying to intervene, saying it doesn't want Griner to be used as a 'pawn' in the growing tensions between Russia and the U.S. over the Ukrainian war. However, many believe the U.S. should leave Griner to fight on her own after she made a series of anti-American comments in 2020.
During the height of BLM protests, Griner said, "I'm not going to be out there for the national anthem. If the league (WNBA) continues to want to play it, that's fine. It will be all season long, I'll not be out there," she said. "I feel like more are going to probably do the same thing. I can only speak for myself."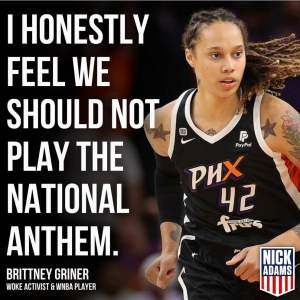 These comments echo an individual who has disdain for this country and everything it stands for.
America is the land of the free and has given Griner the opportunity and freedom to choose anything she does in life, including her pursuit of a WNBA career.  But since she effectively spit in the face of our American Flag and National Anthem, in addition to thumbing her nose at Russian drug laws, the last thing the U.S. should do is help her out of her own legal mess.
Letting her sit in jail seems like perfect Karma.