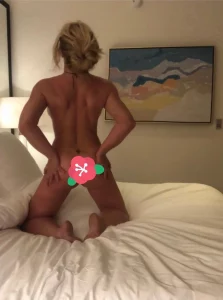 (Page Six) It's Britney Spears, bitch!
The pop star took to social media once again on Thursday to share a series of pics of herself posing nude in her London hotel room.
In one of the sexy snaps shared to Instagram, Spears, 40, grabbed her cheeks as she showed off her backside – using different emojis to keep the photos PG.
"Heart or flower??? 🌹🌹🌹💕💕💕," she asked her followers, referencing the emoticons used to blur her assets.
In more photos, the "Toxic" singer cupped her breasts with her hands as she struck sultry poses on her plush bed. She wore nothing but a necklace and a turquoise leopard-print thong, which she apparently purchased in Mexico.
"Waking up in London 🇬🇧 with my Cabo thong 🙈 !!!" she captioned a second post, where she also shared a snap of herself lying on her belly with her back tattoo on full display.
"ALRIGHT ALRIGHT ALRIGHT 🌹🌹🌹," she wrote in another.
In a similar photo, she wore the same wild underwear as she covered her chest with her hands, but let her nipple slip out and censored it with a red heart emoji.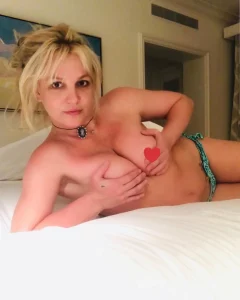 "Not sure … tea 🫖 or coffee ☕️🤔 ????" she captioned the racy post.
The pop star also made a joke about the lengths she went to to capture her photo shoot.
"I held my phone up with a book and a remote control to shoot this ….🙈🙈," Spears shared.
The singer shared her revealing photo series just days after singing a new, edgier rendition of her 1998 hit, "…Baby One More Time."