From EW.com…
All she wants for Christmas is… a motion to dismiss?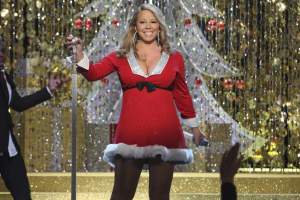 Stone, who serves as the frontman for country-pop band Vince Vance & the Valiants, is asking for a minimum of $20 million in damages, and he named Carey, her co-writer, and Sony Music Entertainment in the suit, claiming they illegally exploited his "popularity and unique style."
The two songs share titles. If you're unfamiliar with Stone's version, you can check it out here.
Stone argues that his song charted on Billboard and enjoyed "extensive airplay" in 1993, and that attempts to come to an agreement with Carey and the other co-defendants in April 2021 were unsuccessful.
Carey's perennial Christmas favorite hit No. 1 on the Billboard Hot 100 for the first time in 2019 and has returned to the top spot every year since. In fact, the song gets so much play in the final months of the year that in 2021, a bar banned patrons from playing it on the jukebox before December and then only once a night after that. This prompted Carey to tweet about her new role in the "war on Christmas."