From FoxNews.com….
CNN's "Cuomo Prime Time" continues to drop viewers at an alarming rate as the big brother of namesake host Chris Cuomo is caught up in multiple scandals.
"Cuomo Prime Time" had its lowest-rated week of the year from April 5 to April 9, averaging only 1.2 million viewers. The show is down a whopping 45 percent compared to the week of Jan. 25, but the Cuomo name has since been beset by a series of embarrassing headlines.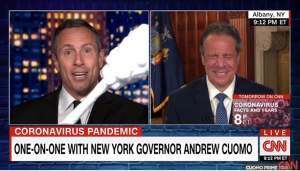 Viewers are turning away after the CNN host reportedly received prioritized coronavirus testing when his brother, Democratic New York Gov. Andrew Cuomo, ordered health department officials to give special treatment to his relatives and "influential people with ties to the administration." At the time, the vast majority of New Yorkers faced a difficult time finding coronavirus tests, regardless of symptoms.
The governor has also been accused of sexual harassment by multiple women and covering up coronavirus nursing home deaths in the state.