From ReclaimTheNet.org…
Neutral video sharing platform Rumble has introduced two new features for iPhone and iPad users – a new discovery feature which makes it easy to find popular videos and a new dark mode which gives the app a dark theme and is great for low light conditions.
The new discovery feature is available via the "Categories" section of the discovery tab on Rumble's iOS app. It highlights several different videos including news, podcasts, finance, sports, and vlogs.
When users tap on any of these categories, a full-screen vertical player will start auto-playing videos from that category.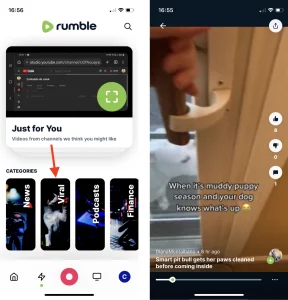 Users can swipe right to like the video, swipe left to dislike the video, swipe up to display the next video, or swipe down to display the previous video.