A group representing more than 500 independent Canadian doctors, scientists and health care practitioners put together a 40-minute video and slide presentation that details how Pfizer and the government manipulated testing numbers in order to get COVID-19 vaccines approved for emergency use.
The Canadian COVID Care Alliance showed how Pfizer committed fraud in their rapid clinical trials, presenting evidence that contradicted almost every claim made to the public about the safety of COVID-19 vaccines and how receiving a shot would reduce the symptoms and seriousness of the coronavirus. They also showed that Pfizer misrepresented data, hiding its finding that it's COVID vaccine increased the risk of illness and death when compared to the placebo trial group.
Below is Pfizer's trial report where they claimed that after just two months of testing, that its vaccine had an efficacy rate of 95% after just two shots.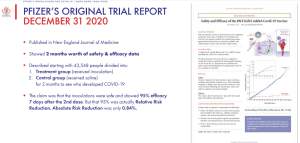 In reality, the vaccine efficacy rate is much less.
The short video below explains the difference between "relative risk reduction," and "absolute risk reduction," which is the more important metric.
Also noted was the fact that by 2023, the long-term safety data that was supposed to be assessed is no longer possible because the placebo group has already crossed over two year, so whatever Pfizer says about efficacy from this point is no longer valid.
Below is the full 40 minute video that goes into detail about inadequate testing and all the things Pfizer manipulated to get the public vaccinated.