(New American) A Manhattan pharma heiress said her mother had to hire her a $300-a-day deprogrammer to unlearn the woke views she was 'brainwashed' with at an all-woman's Massachusetts college.
Annabella Rockwell, 29, graduated from Mount Holyoke in Western Massachusetts in 2015 and said it drove her to drink and made her briefly become estranged from her mother, who threw a vase during one of their arguments.
Prior to attending the elite school to study history, which charges $60,000 a year, Rockwell said she grew up in a 'traditional' household and had considered herself to be open-minded.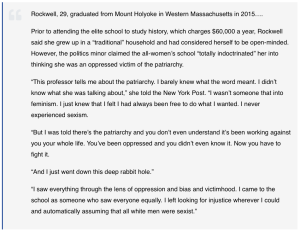 Raised in convention and comfort — Rockwell is heiress to a pharmaceutical fortune — she was initially taken aback how unabashedly anti-male the Mt. Holyoke professors and students were and by the school's "drinking culture." She also describes rituals geared toward eliminating "gender roles," such as students getting a "MoHo chop" haircut. (One undergraduate said it made her look like "a 14-year-old Justin Bieber"; it's basically the lesbian look.)
Emerging from this indoctrination mill "anxious," "nervous," "depressed," and with an alcohol problem, Rockwell said she turned on her mother, Melinda, even though the two had once been bosom companions; she wrote a manifesto indicting her mom for allegedly being unloving and reducing her to a "wind-up toy."
Rockwell felt it was her role to "teach" her mother, and all others deviating from her orthodoxy, the error of their ways. She states that Holyoke professors actually encouraged "alienation" from parents (the brutal Khmer Rouge in Cambodia did this, too), going so far as telling students not to spend holidays with their parents but, rather, to "come stay with us." Rockwell further said that most students embraced this orthodoxy and that rejecting it meant ostracism.
Also attesting to this intolerant atmosphere is former congressional candidate Laura Loomer, who spent one semester at Mt. Holyoke. Explaining that she was bullied for her conservative beliefs by both students and staff, she mentioned that a school chat board had a whole thread titled "I Hate Laura Loomer," reports the New York Post. "The entire culture there revolved around hating men and being a lesbian," she said.
If this sounds like "a cult," well, that's exactly how Fox News host Tucker Carlson described such higher education while interviewing Rockwell Monday (video below). In fact, after months of estrangement from her daughter, mother Melinda "enlisted the help of a deprogrammer who charged $300 a day as well as Annabella's old tennis coach," writes the Post, to restore the young woman's sanity.