(Not The Bee) This September 2021 clip of Joe Biden chasing an ice cream truck went viral over the weekend:
The shame! What a disgraceful—
Oh wait.
As probably none of you guessed, this was apparently something called a "meme."
A video of U.S. President Joe Biden walking away momentarily during a speech given by U.S. First Lady Jill Biden has been digitally edited to include music played by an ice cream truck https://t.co/c4KravJu6e pic.twitter.com/P1DadplRkW

— Reuters Fact Check (@ReutersFacts) July 31, 2022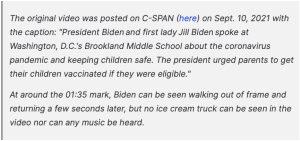 Twitter also confirmed that this is "manipulated media."
When your MKUltra trigger is ice cream truck 🎶 pic.twitter.com/5To9ZhRS1e

— . (@grumpfuk) July 28, 2022
Thank goodness the fact checkers were here to help us! We might have fallen into utter darkness if not for them!