(Wall Street Journal) More high-school graduates are being diverted from college campuses by brighter prospects for blue-collar jobs in a historically strong labor market for less-educated workers.
The college enrollment rate for recent U.S. high-school graduates, ages 16 to 24, declined to 62% last year from 66.2% in 2019, just before the pandemic began, according to the latest Labor Department data. The rate topped out at 70.1% in 2009.
Job growth at restaurants, theme parks and other parts of the leisure and hospitality sector—which tend to employ young people and typically don't require a college degree—has increased more than twice as fast as job gains overall in the past year. There also remains a high number of job openings in construction, manufacturing and warehousing, fields that often require additional training, but not college degrees.
The unemployment rate for teenage workers ages 16 to 19 fell to a 70-year low of 9.2% last month, fueling larger pay increases.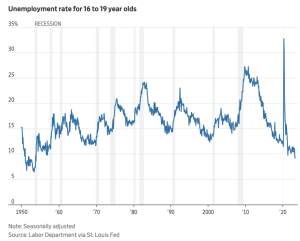 Average hourly earnings for rank-and-file leisure and hospitality workers were up nearly 30%, seasonally adjusted, from April 2019 to April 2023, compared with roughly 20% during the same period for all workers.
Restaurant waitstaff earned a median hourly wage of $14 in 2022, nearly double the federal minimum wage. Wages are even higher in industries that don't require college degrees but need additional training, such as apprenticeships. Machinists earned $23.32 an hour, above the national median wage of $22.26 an hour. Carpenters earned $24.71 an hour last year.
"The pandemic disrupted college to such a degree that many people delayed going," said ZipRecruiter Chief Economist Julia Pollak. "Once they delay, they get hooked on earning and working and don't come back" to college.
College value questioned
College enrollment has declined by about 15% in the past decade, according to federal data. The reasons include the high cost of university education, colleges closing and uneven returns from getting a degree, as well as the hot job market.
Most Americans don't think a college degree
is worth the cost
, according to a Wall Street Journal-NORC poll earlier this year, a new low in confidence in what has long been a hallmark of the American dream. College graduates are facing a
more uncertain job search
this summer as companies rethink the value of many white-collar roles.
Acute labor shortages after the Covid-19 pandemic hit forced employers to offer better pay, benefits and working conditions to attract and retain workers, such as giving employees greater flexibility to set their own hours. Demand for blue-collar workers is high and expected to remain that way, given an aging workforce and a pandemic slowdown in immigration.
"If you can get [a job] without a B.A. and with decent wage growth, why go get a B.A.?" Pollak asked.