From HarbingersDaily.com….
People should be concerned about the Green New Deal because it includes the most radical policies that can transform the economy into a socialist one and allow the government to tighten control over society, according to Hayden Ludwig, Senior Investigative Researcher at the Capital Research Center.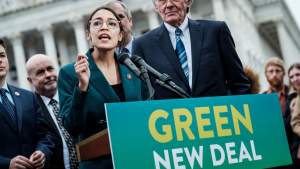 "The Green New Deal, I would say, has nothing to do with climate change, it has nothing to do with global warming, the environment. Period. It's everything to do with remaking the entire United States in the radical left's own image," Ludwig told The Epoch Times' "Crossroads" program.
Saikat Chakrabarti, former chief of staff to Rep. Alexandria Ocasio-Cortez (D-N.Y.), told The Washington Post in 2019, "The interesting thing about the Green New Deal … is it wasn't originally a climate thing at all. … we really think of it as a how-do-you-change-the-entire-economy thing."
A campaign organizer for Friends of the Earth stated at a United Nations conference, "A climate change response must have at its heart a redistribution of wealth and resources," according to Christopher Horner's book "Red Hot Lies."