(DailyWire) The federal government has been ferrying illegal immigrants nabbed at the southern border throughout the country, using a secret itinerary dependent on chartered flights and small regional airports, a Daily Wire investigation has revealed.
Even as the number of illegal immigrants encountered at the border has reached record levels topping 200,000 per month, the Biden administration has been secretive about where those permitted to stay are sent. Word has typically trickled out from states where uninvited flights land and immigrants disperse.
"'Over 70 air charter flights [on] jetliner airliners coming from the southwest border have landed at Jacksonville International Airport,'" Larry Keefe, Gov. Ron DeSantis' (R-FL) public safety czar, told the Washington Examiner.
The Daily Wire identified nearly three dozen charter planes believed to have been deployed to move illegal immigrants across the interior of the country and others back to their original home (the clause comes off a bit vague). Using flight radar data, we reconstructed the planes' itineraries to reveal a breathtakingly complex network. The data tracks the movement of the planes, mostly Boeing 737s owned by a handful of charter-jet companies, over the last six months of 2021. 
At times, the planes appear to have been returning illegal immigrants to their home countries, while at others, they appear to transport them to military bases, and sometimes, they appear to be flying illegal immigrants to small airports across the U.S. — where they frequently land in the dark of night to be settled nearby. 
On Christmas night, for example, two flights carrying some 240 migrants from Texas landed in eastern Pennsylvania, prompting one lawmaker to observe that the border crisis was now a national problem.
"'Wilkes Barre and Scranton are now border cities as a direct result of the Biden administration's policies,'" Rep. Dan Meuser (R-PA) remarked.
It cannot be determined from available data that all of the flights involve the transport of migrants. And some stops in the interior could be to pick up migrants to deport rather than drop them off. ICE flights are known to transfer detainees between 24 airports near field offices and make multiple stops at such facilities on their way out of the country, though those sites only account for a fraction of the cities on the map.
But the data, combined with the White House's secrecy, reporting from local news media, and information uncovered by local officials, strongly suggests the federal government is essentially picking up where coyotes left off to provide illegal immigrants the final leg of transportation into the interior of the U.S.
Jacksonville
DeSantis's office only learned of the flights coming into Florida from local law enforcement. When state officials sought to determine who was behind the mystery flights, the Biden administration refused to say who was on the flights, where they were going, or even who was overseeing them, Keefe told the Washington Examiner.
"'[We're] having to watch and observe — in effect, spy on the government to see what it is that they're doing in the middle of the night out of these airport facilities,'" he said.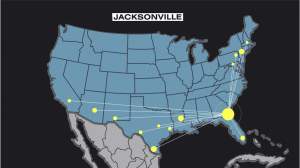 DeSantis was furious.
"These are done mostly in the middle of the night," he said at the time. "And it's clandestine. And we really have no say into it. … I know when we initially got wind of this, it wasn't through normal channels, it's people in the federal government who are effectively leaking this to us so that we have a heads up on it."
Typically, illegal immigrants permitted to settle in the U.S. are unaccompanied minors who the administration seeks to reunite with sponsors, who are generally represented as being family members. These illegal immigrants are often unable or unwilling to verify their ages, and there is some evidence that the people who vouch for them aren't always their relatives.
In Jacksonville, a 24-year-old Honduran named Yery Noel Medina Ulloa was charged with murder in October after telling U.S. border authorities in Texas that he was 17, the New York Post found. That meant he was treated as an unaccompanied minor and given a "Notice to Appear" before being placed in a shelter.
Ulloa was then taken in by Francisco Javier Cuellar, a man who was not a relative and who Ulloa would later allegedly stab to death. According to his mother, Ulloa knew that he'd be released into the country if he claimed to be a minor.