From BlackListedNews.com….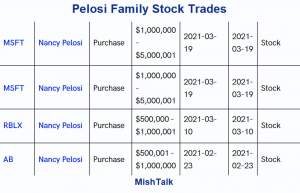 Nancy Pelosi's husband made an excellent Microsoft stock market trade. Let's check out the details.
Purchase of Stock Via Call Options
Barron's reports Nancy Pelosi's Husband Bought Roblox, Microsoft Stock
         Speaker Nancy Pelosi's husband just disclosed he bought Roblox stock the day it went public, and acquired Microsoft stock through options.
The Barron's article is behind a paywall. Fox News also reports the same thing: Pelosi's Husband Bought $10M in Microsoft Shares Through Options