(TownHall) In the trove of emails on Hunter Biden's laptop, one stood out to Miranda Devine of the New York Post. It was a long and well-informed email about Ukraine, Russia, and the United Kingdom and was unlike any other he had sent.
On "Tucker Carlson Tonight," Tuesday, host Tucker Carlson said it "indicates that Hunter Biden had classified information in his possession," which "almost certainly…came from his father, then the vice president."
Carlson argued he "used that information to make piles of money for the Biden family while working at a fake job in Ukraine." Indeed, as Devine points out, it was written a month before he got the cushy Burisma job.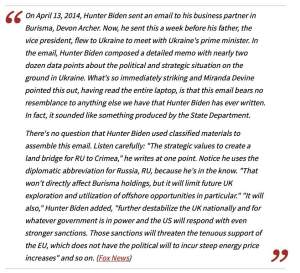 Another red flag about the email is that it came at a time when Hunter Biden was an "active drug addict."
"Just two months before he wrote this, two months, in February of 2014, he'd been thrown out of the Navy for cocaine use," Carlson noted. "He couldn't even stay sober long enough to pass a scheduled drug test. He was completely out of control.
"Yet somehow, in that state, in this email, Hunter Biden managed to sound like a seasoned Ukraine hand from Foggy Bottom, referring to Russia as 'RU' and all the rest," he continued. "And critically, he seemed to know for a fact the details of American diplomatic strategy in the region. The US will respond with even stronger sanctions. How did Hunter Biden know that? Oh, come on."
Here is a screenshot of Hunter Biden's original 22-point Ukraine email cited in the column. Note the strategic detail. pic.twitter.com/kt6GNdQD85

— Miranda Devine (@mirandadevine) January 23, 2023