(RedState) A self-proclaimed "trans woman" named Darren Glines was acquitted of three counts of indecent exposure in a woman's locker room after a judge ruled that he was too fat.
According to The Daily Mail, Glines was found to be so overweight that his genitals were obscured by his massive gut and couldn't have possibly been seen by the three juveniles reportedly present. The incident, which would have easily passed for parody a few years ago, took place in Xenia, OH.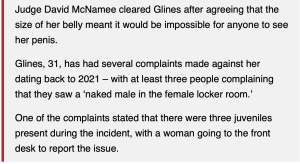 There are two absolutely stunning precedents being set here. First, if a man is so fat that their genitals can't be clearly seen, then it's apparently fine for them to get naked in front of little girls at a YMCA. That's actually the argument that this ridiculous judge bought.
Further, it is now apparently acceptable for a man to get naked in front of little girls as long as the degenerates at the front desk of an establishment give him permission to enter the woman's locker room. Does that really sound like a smart standard for society to be setting? Imagine how that policy could be used by abusers, but also understand that it doesn't even have to be used in that way for these policies to be dangerous. The mere presence of a naked man in front of children is harmful and disgusting.
I'm simply dumbfounded at how insane things have gotten in relation to gender ideology over just the past five years. What's important to note here, though, is that, unlike some other far-left encroachments on objective normalcy and safety, the majority of Americans are still against this bastardization of reality. A recent tracking poll found that 57 percent of respondents correctly believe that gender is determined by sex at birth and is unmaleable.
Unfortunately, the powers that be are going to die on the hill of forcing naked men into women's spaces, and this isn't even the first time this has happened at a YMCA. In mid-2022, an 80-year-old woman was bannedfrom a Washington-based affiliate for protesting the presence of a man in the showers.