(Not The Bee) You guys ready for the surprise of a lifetime? You'll never believe this.
Americans' views of the U.S. political system have reached new lows, according to a survey that reveals near-record distrust of the government, disgust with both political parties and general exhaustion over all the divisiveness https://t.co/g1awb1sxfY

— Stef Kight (@StefWKight) September 19, 2023
"Americans' trust in political system at new lows."
Yeah, I don't think this surprises anybody in 2023. Let's take a look at these numbers.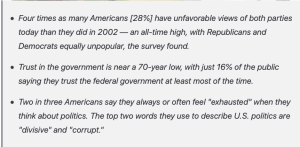 16% of Americans still trust the government?!?!
Not a great trajectory for our leaders.
A few other items that stuck out to me:
Just look at how the discontent with BOTH PARTIES has trended over the years:

Great to see. I like our odds in the future. Keep it up youngins!
And this is huge right here, because I say this all the time, we have so many things in common with those across the aisle, we just gotta figure out what those things are.