(Daily Mail) The new USA Today/Suffolk University survey shows that a majority of GOP voters want Trump to pass the torch to the 44-year-old Republican governor – despite having declared his own third White House campaign last month.
And while the ex-president trails Biden in a theoretical head-to-head rematch, DeSantis holds a narrow lead over the Democrat of about four points.
The Florida governor is coming off of a double-digit landslide victory in the 2022 midterm elections, decisively winning another term after just narrowly defeating Democrat Andrew Gillum in 2018.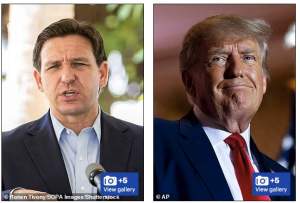 A majority of Republican and Republican-leaning voters want Donald Trump to pass the GOP torch to another candidate, according to the new USA Today/Suffolk University poll
DeSantis saw his national GOP star rise over the last two years of the Biden administration as a vocal critic of the Democratic president's policies.
He's also waged war on Disney for criticizing his anti-LGBTQ legislation that critics dubbed 'Don't Say Gay,' and sent a plane full of Venezuelan migrants from Texas to Martha's Vineyard in a show of defiance over the border crisis.
Tuesday's poll suggests that 65 percent of Republicans and right-leaning voters want DeSantis to run for president in 2024 – while less than a quarter said the opposite.
Trump, in contrast, had 60 percent of GOP voters pulling for him to mount a third campaign. Now that he has, as of Tuesday, just 47 percent of people want him to do so.
That's compared to 45 percent of GOP voters who said they don't want him to run.
While DeSantis has not confirmed he'll seek the White House in 2024 – preferring to say he was focused on Florida – his refusal to rule out a GOP primary challenge to Trump has infuriated the ex-president.
In that hypothetical scenario, DeSantis led Trump by a whopping 23 percentage points – 56 percent for the governor compared to just a third for Trump.