From TheCovidBlog.com…
Parents could justifiably play the ignorance card with their teens and toddlers receiving mRNA and viral vector DNA injections through about May of 2021. But after 16-year-old Kamrynn Thomas, 13-year-old Jacob Clynick, and later 16-year-old Azorean Tatum died within days of receiving their Pfizer mRNA injections, the ignorance card was no longer an option.
We hark back to Maddie De Garay quite a bit on this blog. Her mother, Stephanie De Garay, continually insists that then-12-year-old Maddie "volunteered" for the Pfizer clinical trial, using kids as guinea pigs for their mRNA injections in late 2020 and early 2021. Note Maddie is still paralyzed to this day. We now have more information on that specific clinical trial thanks to the document dump forced by a federal judge and initiated by the Public Health and Medical Professionals for Transparency.
The 265-page document outlines the parameters and procedures for Pfizer's Phase 1/2/3 Clinical Study for children 11 years old and up. Note that this document is dated April 30, 2020. Just two months earlier, 90%+ of Americans had never even heard of so-called COVID-19. But Pfizer already had a vaccine candidate.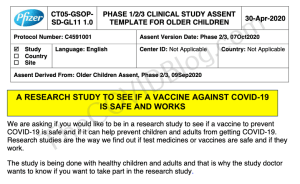 Again the trial took place from late October 2020 to January 2021. The worst possible adverse reaction Pfizer listed in the document is seizures.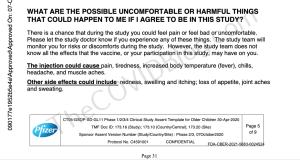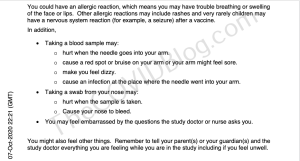 Of course the now-infamous April 30, 2021 Cumulative Analysis of Adverse Reactions report by Pfizer lists nearly 1,300 possible adverse reactions on nine pages, including 1,223 post-injection deaths through only February 28, 2021. Pfizer, in the clinical trial document, warns pregnant girls and those who plan to become pregnant, to refrain from the clinical trial.