From FoxNews.com…
Former President Obama stole the show on Tuesday when he returned to the White House for the first time in more than five years for an event commemorating the 12th anniversary of the Affordable Care Act.
The event — which featured remarks from Obama, President Biden and Vice President Kamala Harris — featured a number of prominent Democrats, including House Speaker Nancy Pelosi, D-Calif., who made their way over to Obama for laughter and conversations as Biden looked on, seemingly unsure of what to do next.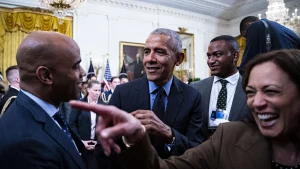 At one point, Biden, turned back to find Obama surrounded by Democrats who were eager to speak with him.
Obama came to the White House today, immediately got mobbed, and no one wanted to talk to Biden. pic.twitter.com/69B2H92XVV

— Clay Travis (@ClayTravis) April 5, 2022
Another video from the event shows Biden attempting to get the attention of Obama.
Unbothered, Obama ignored Biden as he continued to shake hands and interact with those in attendance.