From MotorTrend.com…
The 16 different Bentley sedans, coupes, and convertibles MotorTrend has tested over the past decade have on average weighed 5,373 pounds, with an average of 573 horsepower and 561 lb-ft of torque. The new 2022 Bentley Continental GT Speed weighs just more than 5,000 pounds and packs 650 hp and 664 lb-ft; in terms of its weight-to-power ratio, it's an above-average Bentley. But the work done under the hood isn't what makes the new Continental GT Speed special. Rather, the it is the work done to the chassis and to the vehicle dynamics systems you notice most.
Hardware And Software
The hardware changes are surprisingly few; they focus mainly on the rear axle, fitted with the rear-steer system used on the Flying Spur sedan.
The 2022 Bentley Continental GT Speed also features an electronic limited-slip differential, the first of its kind ever fitted to a Bentley road car. The steering ratio is quicker than before, and a new carbon-ceramic brake system with 10-piston calipers and monstrous 17.3-inch front rotors—the largest ever fitted to a road car, says Bentley—is an option. Reordered zeros and ones streaming through the 2022 Continental GT Speed's vast electronic neural network takes care of the rest.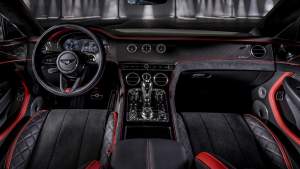 New software for the stability control and active all-wheel-drive system, as well as for the spring, shock, and roll rates, is designed to work with the rear steering and the e-diff to dramatically improve what Bentley chassis development chief Florian Sprenger calls "yaw response." In non-engineer speak, he means the Continental GT Speed is set up to be the most agile and reactive Bentley road car of all time.