From MotorTrend.com….
Ford says our long collective house arrest has us itching to hit the trails, accelerating a trend that has seen Explorer owners reporting a 56 percent increase in off-road use over the last three years. To ensure these increasingly outdoorsy family SUV customers don't defect to the forthcoming three-row Jeep Grand Cherokee L, the company is rolling out the 2021 Ford Explorer Timberline, which it claims will be "the most off-road-capable Explorer ever."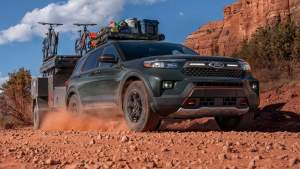 What Off-Road Gear Does The 2021 Ford Explorer Timberline Get?
Ford has given the Explorer a total off-road-readiness overhaul in creating the Timberline. Starting from the bottom up, there's a rugged set of 265/65R-18 Bridgestone Dueler all-terrain tires, with an aggressive yet allegedly quiet tread pattern. Those tires alone provide a quarter-inch of additional ground clearance, to which a mild suspension lift increases the total to 0.8 inch. That raises the Explorer's minimum running ground clearance from 7.9 to 8.7 inches. Revised bumper fascias further improve the approach and departure angles to 23.5 and 23.7 degrees respectively, up from 20.1/22.0. In case that's still not quite enough clearance, an extensive set of steel skid plates protects the chin, powertrain, and other vulnerable underbody bits.