(Not The Bee) In today's rapid-fire, lightning-fast media environment, it's always important to stay abreast of the latest socio-political terminology, so that you can at least appear to be up-to-date on whatever the current zeitgeist is.
For instance, it is increasingly becoming offensive to use the term "woman" in reference to…well…you know, women. Transgender ideology has successfully lobbied to make that word into something resembling a slur. So it's on its way out.
And what has taken its place? Oh, we have many options in play here. The following is surely a non-exhaustive list of all the things we may now call women other than "women:"
"Birth-givers."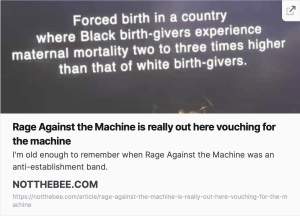 Yes, "birth-givers." For that you can thank Rage Against the Machine, a formerly cutting-edge countercultural musical group that has embraced probably the most rigid orthodoxy of the last 100 years of American society.
"People who menstruate."
A study found that 42% of people with regular menstrual cycles said they bled more heavily than usual after their Covid vaccination. https://t.co/mEspNV8ctO

— NBC News (@NBCNews) July 15, 2022
Some other acceptable variations: "Menstruating people," "people of the menstruating persuasion," "a person who happens to menstruate."
"People with uteruses."
Congressional Republicans want abortion to be illegal.

But let me tell you something: As long as I'm president, I will veto any attempt.

I don't care what they try to do. I will never let it become law.

— President Biden (@POTUS) July 8, 2022
I myself personally lobbied for "people with uteri," but I was quite handily voted down.
"Birthing people."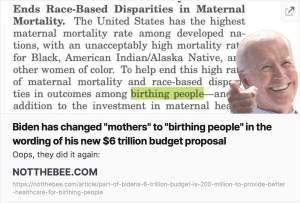 Be sure to wish your birthing person a happy birthing person's day next May!
"Abortion patients."
It is unnecessary to avoid the word "women" by substituting phrases like "birthing people," "people with uteruses" and the like. This language can offend both transgender and cisgender people.

— Trans Journalists Association (@TransJA) May 5, 2022
It's a Planned Parenthood marketer's dream, honestly.
"Pregnancy-capable friends."
I'm mostly gonna be checking on my pregnancy-capable friends and signal-boosting contraceptive and reproductive health related resources today, friends.

A lot of our friends and loved ones are going to have a real tough time. Let's try and take care of them. <3

— Vince, Clipsmaster General (@DichotomusPrime) June 24, 2022
With pregnancy-capable friends like these, who needs pregnancy-capable enemies?