(Not The Bee) Heyyo fur mommies and daddies, if you take your pets to PetSmart, there's a good chance they are totally being groomed there, cuz check this out:
PetSmart becomes latest company to face backlash over Pride merchandise https://t.co/sf93s1dYK2 pic.twitter.com/isP4BzAdpB

— New York Post (@nypost) May 29, 2023
Yup, no joke, a pet store is selling 2SLGBTQI+ merchandise for your pets during pride month.
🤣🤣🤣
Sorry, I'll stop with the grooming stuff. I just think it's hilarious.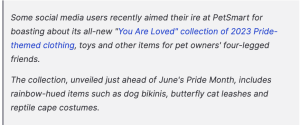 From PetSmart's website:

Yeah, and you guys were all confused last year when all these pets started getting monkeypox. Well, now you know why.
Here's some of that merch for ya: