(Yahoo) Sales of previously owned homes declined for the seventh straight month in August, as rising mortgage rates priced out more would-be buyers from the market. But the volume exceeded expectations.
Contract closings fell 0.4% in August from July to a seasonally adjusted annual rate of 4.80 million, according to the National Association of Realtors (NAR). The median estimate called for 4.69 million in a Bloomberg survey of economists. Sales fell 19.9% from one year ago.
The figures underscore a slowing housing market as buyers face tougher conditions with mortgage rates rising, higher prices, and low inventory of homes — a result of a slowdown in construction and homeowners reluctant to list for sale.
"Even buyers able to afford a house at current rates could feel frozen, waiting for mortgage rates to fall dramatically again like they did from the end of June to mid-July, when rates dropped 50 basis points in just two weeks," according to Zillow research.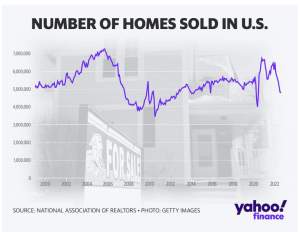 Rates have nearly doubled in the last year and topped 6% last week for the first time since 2008. The steep rise in borrowing costs has pushed monthly mortgage payments for a newly purchased home from $897 in 2019 to $1,643 last month, an 83% jump from this time last year before the pandemic hit, Zillow reported.
Additionally, recent volatility in mortgage rates have also been a whiplash for borrowers, who are able to qualify for a loan one week but not the next.
The median listing price in August came in at $389,500, a 7.7% jump from a year ago, when the median listing price was $361,500 in 2021. While the figure marks the longest-running streak of year-over-year increases, it's also the second straight month the median sales price fell from the previous month and is down $24,000 from the record high of $413,800 recorded in June, providing another sign of softness in the market.
Torrance, CA – August 24: There are plenty of for sale signs scattered about the Skyline Mobile Home Park in Torrance on Wednesday, August 24, 2022. Residents are facing rent raises of around $200 from the new park management. In this senior only mobile home park many residents live on fixed incomes and are worried about how they will afford this rent increase and any future rent increases.(Photo by Brittany Murray/MediaNews Group/Long Beach Press-Telegram via Getty Images)