(New York Post) What a difference a year makes! Especially in the case of New York City rental housing, where the average Manhattan rent just blew past $5,000.
Take, for instance, unit 701 at 200 E. 11th St., a 54-unit rental building known as Eleventh and Third, which was leased last week for $6,500 per month. The one-bedroom spread has new glass-panel windows, polished concrete kitchen counters, walnut flooring — and rented in March 2021, a time of pandemic-era lows, for $5,150, with one month free to boot.
"There were concessions being offered on every apartment," Living New York agent Deeb Sankary, who handles the building's leasing, told The Post of activity there in 2021. But by the fall of that year, bottomed-out city rental prices had broken even with pre-pandemic levels — and have since risen ever higher, continuing to crush records in the process. "We are at or above pre-COVID pricing. We are seeing this consistently in the East Village and all Lower Manhattan buildings, and we are no longer offering concessions," said Sankary.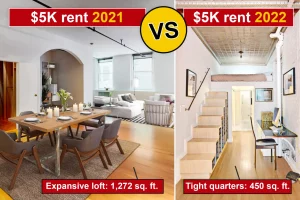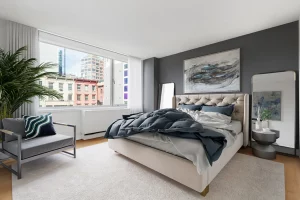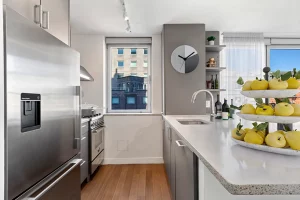 A 471-square-foot one-bedroom at 250 E. Houston St. recently rented for $5,050; a year earlier, and seven blocks west, a far more spacious 713-square-foot one-bedroom unit at 229 Chrystie St. cost the same. Last month, $5,055 fetched a 626-square-foot studio at 41 River Terrace in Battery Park City; rewind to the same time last year, $5 less per month was enough to score a 1,454-square-foot two-bedroom at 15 Broad St. in the nearby Financial District.
The precipitous climb has coincided with skyrocketing demand for city housing. Schools reopened, offices eventually did the same and remote-working out-of-towners moved to the Big Apple, all creating a crowded rental market. Tenants started receiving large hikes on lease renewals and bidding wars emerged for scarce availabilities. Then, last month, Manhattan average rents reached a dizzying peak of $5,058 per month — the first time in history they crossed the $5,000 mark, according to the latest Douglas Elliman and Miller Samuel figures.
High rents, mixed with low inventory, likely mean these exorbitant prices are here to stay for at least the next few months.
"The peak rental season is in August every year and so we anticipate increased demand over the next couple of months," said Jonathan Miller, of Miller Samuel. "In the near term, it seems likely that we're going to see rents continue to rise."
So, what does $5,000 even get you in Manhattan these days — and how does it compare to last year, when a number of locals scored sweet deals for better homes? Read on and try not to weep.
SOHO
Then: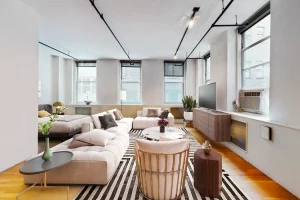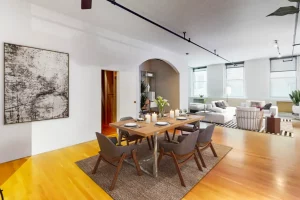 In posh Soho, $5,000 delivered quite the spread, including this expansive loft at 108 Wooster St., which rented for that sum in February 2021.
The 1,272-square-foot space features hardwood floors, soaring ceilings, large windows and industrial touches such as columns.
There's also a large living area, a dining space and separate bedroom and office nooks. Meanwhile, the sleek open chef's kitchen is decked out with stainless steel cabinetry and appliances.