(Daily Mail) Disgraced boss Sam Bankman-Fried's failed FTX splashed out on least 19 properties worth nearly $121 million in the Bahamas over the past two years, official property records show.
The company, which has filed for U.S. bankruptcy court protection, owes over $3 billion to investors but had a total cash balance of $1.24 billion as of Nov. 20, according to a court filing on Monday.
The real estate splurge has raised questions over how and why they were bought, with most of the spending spree including luxury beachfront homes.
A whopping $72 million was spent on apartments for FTX workers at a swanky resort described as 'the ultimate in luxury waterfront living in the Caribbean' by listing agents, as well as a $30 million penthouse in the same complex for former CEO Bankman-Fried.
The exclusive Albany resort in the Bahamas overlooks white beaches and sees Tiger Woods host golf tournaments every year.
A $16.4 million vacation home for Bankman-Fried's Stanford law professor parents was also bought by FTX, in the upmarket gated community of Old Fort Bay.
$30 million: The former penthouse residence of Sam Bankman-Fried in the luxurious Albany development, which was 'meticulously designed with Venetian plaster walls matching Italian marble accents throughout,' its listing says
$72 million: The Albany Bahamas Resort community where FTX reportedly bought seven apartments for its employees, described in a listing as 'the ultimate in luxury waterfront living in the Caribbean'
$16 million: The entrance to Old Fort Bay, the exclusive gated community where the $16.4 million vacation home reportedly bought by FTX for for Bankman-Fried's parents is located
$2 million: View of the beachfront condominium complex ONE Cable Beach, where FTX reportedly bought three homes between $950,000 and $2 million each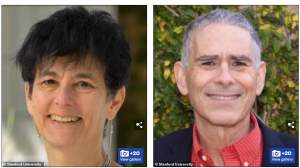 Sam Bankman-Fried's parents, law professors Barbara Frieds and Joseph Bankman, are reported to have been bought a $16.4 million vacation home by their son with FTX funds
Documents for the $16.4 million home with beach access in the exclusive Old Fort Bay show Bankman-Fried's parents, Stanford University law professors Joseph Bankman and Barbara Fried, as signatories.
The property is for use as a 'vacation home,' one of the documents dated June 15 said.
When asked by Reuters why the couple decided to buy a vacation home in the Bahamas and how it was paid for, a spokesperson for the professors said only that Bankman and Fried had been trying to return the property to FTX.
'Since before the bankruptcy proceedings, Mr Bankman and Ms Fried have been seeking to return the deed to the company and are awaiting further instructions,' the spokesperson said, declining to elaborate.
While it is known that FTX and its employees bought real estate in the Bahamas, where it established its headquarters in September last year, the property records seen by Reuters show for the first time the scale of their buying spree.
Other high-end real estate purchases include three condominiums at One Cable Beach, a beachfront residence in New Providence.
Records showed the condominiums cost between $950,000 and $2 million and were bought by Nishad Singh, the former head of engineering at FTX, Gary Wang, an FTX co-founder, and Bankman-Fried for residential use.
A view of the exclusive Albany Bahamas Resort community, where FTX is reported to have spent over $100 million on luxury homes
The Albany Bahamas Resort community, the location of several FTX employees' homes, has been described as 'the ultimate in luxury waterfront living in the Caribbean' by listing agents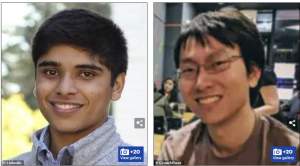 FTX employees Nishad Singh (left) and Gary Wang purchased properties in the ONE Cable Beach complex for up to $2 million each, according tor ecords